Archives For 2012-13 Season
I've got a big three-part breakdown of Ricky Rubio starting Friday, and it's a lot of writing so I don't want to put too much thought into this blowout loss. Plus, how many ways can you state that the Wolves lost another key player to injury, tried to fight the best they could, Ricky Rubio played really well and encouraging basketball, and it wasn't even close to enough to earn a victory.
Nikola Pekovic went down with an abdominal strain and found himself out the rest of the game with the ailment. He played nine minutes in the game and then for the remaining 39 minutes of action against a surging Western Conference team, Minnesota found themselves once again without four of their five ideal starters. Kevin Love was out, obviously. Chase Budinger is still out, although he's running now and will be reevaluated in two to three weeks. Andrei Kirilenko missed the game with a calf injury.
The only player there in the starting lineup and getting regular minutes is Rubio. He was spectacular with his passing for much of the game, and he even made a few jumpers. He finished two rebounds shy of a triple-double, but he wasn't good enough to lead second and third stringers to victory on the road. Kenny Smith talked about how Rubio has to learn how to score and dominate the game in other ways.   Continue Reading…
Frankly, it's become exhausting. It's enough to make you question why you keep watching something that just looks like a flaming wreck drag itself to the finish line. How can you pull meaning from this? The early promise struck down; the lingering and crippling injuries; the sense that just when things seem to be turning around they get worse: I wouldn't blame you for just packing it in and waiting for next season, when things might get better.
The Timberwolves? No, I'm talking about Game of Thrones. Continue Reading…
There are lots of reasons why the Timberwolves are a poor fourth quarter team, why they've lost ten times (worst in the NBA) after carrying a lead into the final frame. Those oft-mentioned 'intangibles' are part of the problem: maintaining composure and focus when things get wild; summoning the energy and determination to make the essential plays. An example of the former might be Ricky Rubio spinning wildly through the lane before lobbing the ball over Nikola Pekovic's head and out of bounds with 3:18 remaining and the score tied at 93. Or Derrick Williams turning down a wide-open midrange jumper in order to mow down the perfectly positioned Carl Landry. An example of the latter might be, for instance, failing to defensive rebound a missed free throw down by two with 38 seconds left.
It's kind of the same old story this season, right?
The Wolves are talented enough to stay competitive with just about any team in the NBA, but they're not healthy enough to overcome the wave of talent, execution, and production that a team like the Oklahoma City Thunder can throw at you. The Wolves need a special set of circumstances to overcome a team like the Thunder. They beat them earlier in the season, but had the luxury of a home environment at their disposal. They also had a balanced attack from a lot of the players, including J.J. Barea going nuts in the fourth quarter of that game.
This time, the bench carried the Wolves when the starters were largely ineffective. The Wolves got 59 points from four bench players, thanks to Barea, Alexey Shved, Dante Cunningham, and Greg Stiemsma stepping up to the challenge. And this was kind of a long time coming from a few of these bench guys. For Alexey, it was the first real good game he's had since the loss to Memphis. For Stiemer, he hadn't really produced much since the win over New Orleans. For Dante, it was the first real good game since the loss to Portland.
On a night in which Nikola Pekovic was completely neutralized by the duo of Kendrick Perkins and Serge Ibaka, the Wolves badly needed the bench to step up and keep things close until the starters could find a rhythm. The problem is the Wolves' starters never found a rhythm. This often leads to the knee-jerk reaction of shuffling deck chairs on a sinking ship, but I like the balance of the Wolves' rotation based on what is available to Rick Adelman.  Continue Reading…
Maybe the Wolves shouldn't explore the Mozgov/Pek backup plan after all?
In a game that was incredibly fast in the first half because of a lack of calls and completely bogged down in the fourth quarter because of 23 foul calls and 38 free throw attempts, the Wolves had to power through their first game back from the All-Star break. Luckily for them, they have the most powerful guy in the NBA with Nikola Pekovic. It's amazing how a guy with so much brute strength can have such a feathery touch when it comes to scoring with hooks and push-shots around the basket.
There was one shot in particular in the second half when he used about four or five bounces on the rim and backboard before the shot dropped in which I thought he was practicing for Plinko on The Price Is Right (Actually, how awesome would Pek be on The Price Is Right?). The thing with Pek is he's a rare breed of center now. In the 50s, 60s, 70s, 80s, 90s, and 00s, the NBA was ruled by powerful guys on the low block who could move mountains with a drop-step. Because we have such a faster and more athletic game now, guys like Pek just don't come around anymore.  Continue Reading…
The trade deadline is schedule for 2pm CT on Thursday and the Wolves are said to be buyers right now by enticing prospective trade partners with Brandon Roy's salary relief and a future first round pick. This makes sense for the team if it means they're adding a piece they can take into next year that helps balance out the roster without taking on too much money. While I don't believe Glen Taylor to be a cheap owner by any means (when the team is good and producing, he historically spends the money and even flirts with the luxury tax), the Wolves do need to be cognizant of cost right now (more on that in a bit).
So what could the Wolves be targeting?  Continue Reading…
At the beginning of the season, as the Wolves added white dude after white dude to their roster, we discussed the team's unprecedented racial makeup. We wondered about the potential interactions between these strikingly white Wolves and their mostly white fanbase. We discussed the Wolves' potential as a kind of old school/new school hybrid, a stylistic melange that would incorporate and complicate nearly every archetype in the NBA pantheon.
More specifically, we wondered about Ricky Rubio's recovery and whether his reunion with Kevin Love could possibly live up to our wild hopes. We wondered how Love would mold his newfound superstardom and how that stardom would interact with a new, suddenly competent, set of teammates and with a fuller expression of Rick Adelman's offense. We wondered what moves Andrei Kirilenko and Alexey Shved might bring to the dance. How would J.J. Barea's antic freestyles play against Kirilenko's humble, heavily structured game? What does a Shved/Rubio backcourt feel like? Does Brandon Roy even have knees? And what is a Shved anyway?
When you're a losing team and you have injuries all over key parts of your roster, you need a full team effort to pull out victories. It isn't getting good performances just from your remaining top players. Of course, you need good games from them but it takes a village to raise a victory, or something like that.
It also helps playing a really bad team. It gives you more and less pressure at the same time, which is an odd thing for a team to manage. The Cleveland Cavaliers are not a good basketball team — at all. They have Kyrie Irving, who might already be a top 5 point guard, and if he's not then he's knocking on the door like one of those creepy stalkers in the movie The Strangers.  Continue Reading…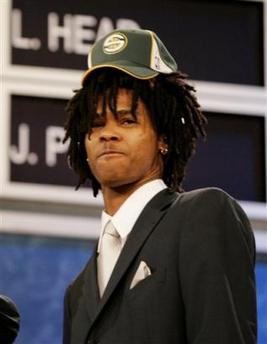 It's strange to listen to coaches and players and announcers attempt to make sense of the Timberwolves' current situation. Over and over we hear testaments to the team's professionalism and resolve, evocations of the stoic warrior ethos: we keep playing; we play with who we have; we all sacrifice more; someone new has to step up. And from their perspectives, this makes sense. After all, even with a lineup as decimated as this, what else are you going to do? The games are on the schedule. You have to play them. The only alternative is a kind of numb, Anthony Randolphian apathy, which, while probably justified by the circumstances, only makes things more painful.
But the hard fact of the matter is that the Wolves–particularly now that they are without J.J. Barea and Andrei Kirilenko–are so undermanned, are stretched so thin at every position that their chances of beating competent NBA teams are awfully remote. Despite the stoic rhetoric, you could see the heft of this realization weighing on the players' faces at the end of this game. Deep inside, they know: When they play their guts out against good teams, they lose by less than ten points. When they are truly mismatched, or when they are not quite at their best, they get hammered. At certain moments the absurdity of it all seeps through the cracks. What is happening here? Where is Kevin Love and why is Mickael Gelabale getting serious minutes for an NBA team? Why are we even doing this? That's despair talking. And–get this–we're not even to the All-Star break.